The cooling air of 19-inch server cabinets/racks in the server room and data center should be permanently monitored. The optimal temperature of the air intake and exhaust air should be measured and controlled 24/7. An insufficiently monitored server cabinet may lead to disastrous consequences and high costs of repair! Vutlan sensors can capture the full thermal conditions of a rack/facility and all its equipment and monitor additional parameters such as pressure & humidity. This data can be plotted for each individual rack to create a Thermal mapping inside Vutlan web interface. Or this data can be sent using SNMP protocol to computational fluid dynamics (CFD) analytical software.
Monitor temperature, humidity & pressure in a cabinet
We offer CAN digital precise sensors for monitoring temperature, relative humidity, pressure, and dew point. VT490 and VT450 sensors can be connected in a series of 6 at the front & rear (intake and exhaust); top, center, and bottom of the rack.
Identify temperature, pressure, relative humidity, dew point hot spot differential between front and rear
Monitor air intake and exhaust
Position the sensors at the front & rear; top, middle & bottom of the cabinet
Create logic schemes for alerting using notifications such as SMS, E-mail, SNMP, Phone dial, or HTTP requests.
Create thresholds (low alarm, low warning, normal, high warning, high alarm)
Provide LCD touch screen with cabinet thermal map, dashboard, and log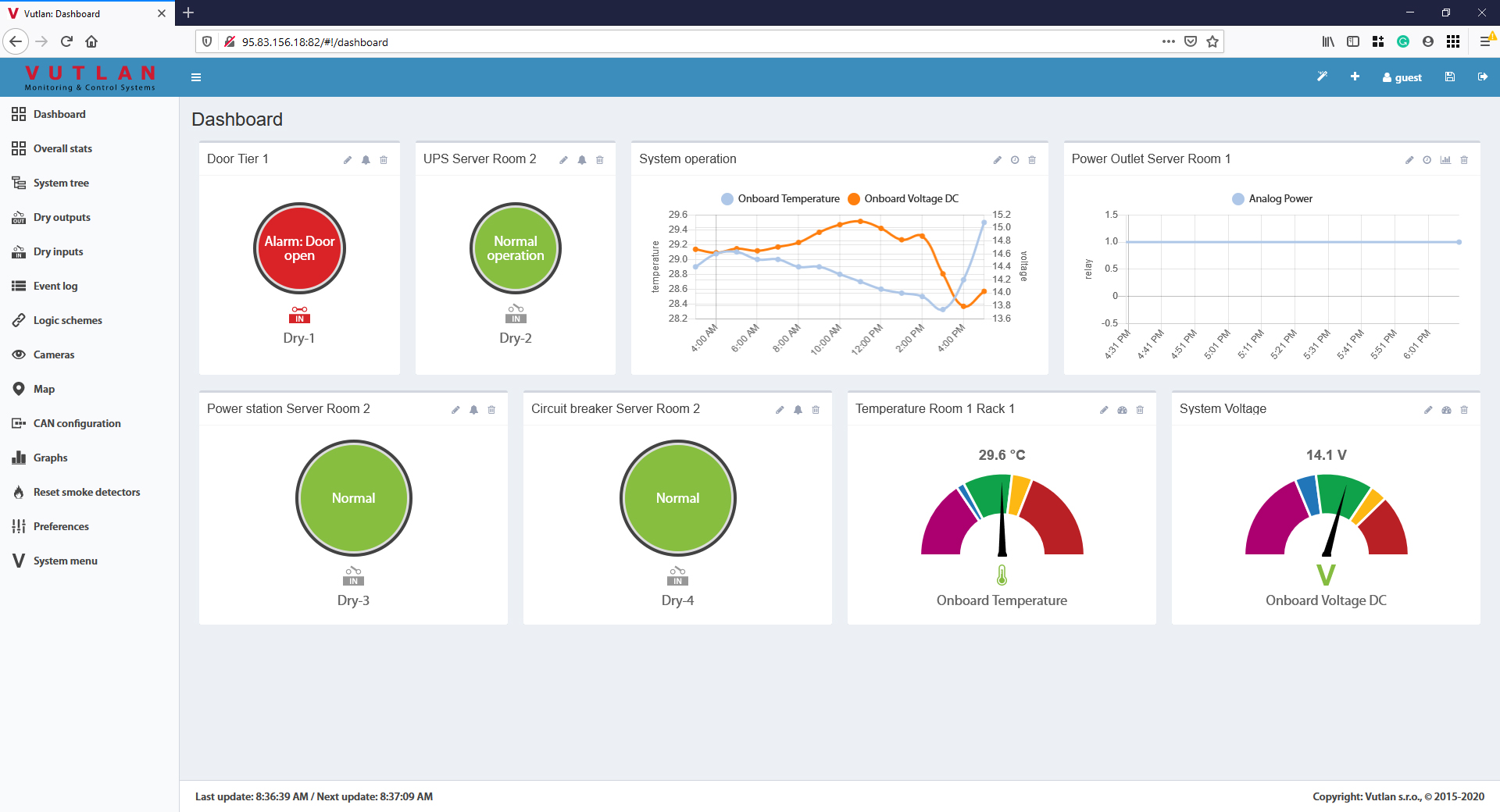 All Vutlan monitoring units come with a built-in multi-language Web Interface for monitoring and control of the device. Here you can configure notifications & alerts, logic schemes, user access permissions, sensors, and elements. You can also inspect sensor graphs, logs, or view cameras.
Display the temperature, relative humidity, pressure, and dew point of air intake and exhaust air of the IT rack graphically in a Web interface using a Map.
All sensor values have threshold controls. Sensors have the option of setting the hysteresis state. All sensor values can be calibrated. Charts and logs are available.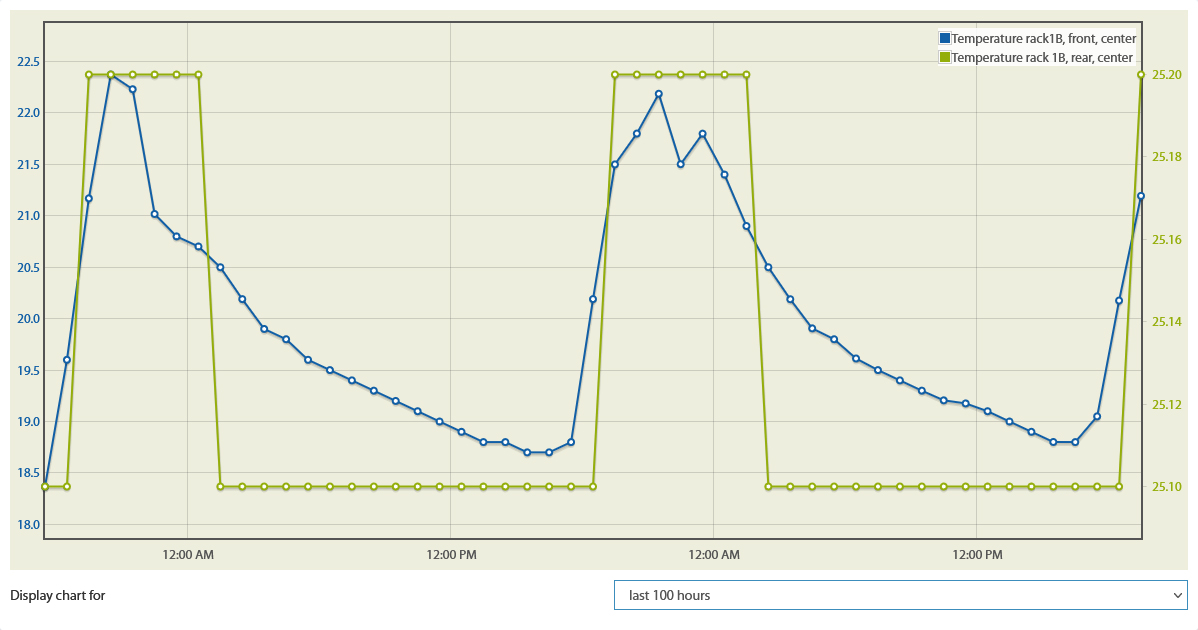 Compare values using multi graphs
Graphs panel is used for comparative analysis of the history of sensor readings; Multiple sensor readings can be added to the graph.
SNMP Monitoring Software enables data center and facility managers to closely monitor and efficiently utilize their existing data center IT infrastructure. Some of the software packages offer Computational Fluid Dynamics (CFD) for thermal mapping of the rack/room/facility.
Any Vutlan monitoring units can be used to monitor VT490 and VT490i sensors (except VT325).

VT490 - Dual humidity and temperature sensor
| | |
| --- | --- |
| Sensor type | CAN digital sensor |
| Inputs/Outputs | x2 RJ11 6P4C ports |
| Daisy chain | Yes |
| Max. distance from the unit: | 225m |
| T accuracy: | ±0.4 °C (max), –10 to 85 °C |
| RH accuracy: | ± 3% RH (max), 0–80% RH |
| Resolution | 0,1 °C |
| Working temperature range: | −40 to +100 °С |
| Humidity operating range: | 0 to 95% RH |
| Dimensions: | 68x47x26 mm |
| Packaging weight: | 160 g |
| Mounting options: | Desktop, Wall mount |
VT450 / Pressure, humidity and temperature sensor
| | |
| --- | --- |
| Sensor type | CAN digital sensor |
| Inputs/Outputs | x2 RJ11 6P4C ports |
| Daisy chain | Yes |
| Max. distance from the unit: | 225m |
| Pressure RMS noise: | 0.2Pa (equivalent to 1.7cm) |
| Pressure error: | ±0.25% (equivalent to 1m at 400m height change) |
| Pressure from °C: | ±1.5Pa/K (equivalent to ±12.6cm at 1 °C temperature change) |
| RH accuracy: | ± 3% RH (max) |
| Hysteresis: | ≤2% RH |
| Response time | 1 s |
| Temperature:  | 1.5°C |
| Pressure range: | 300 to 1100 hPa |
| Working temperature range: | −40 to +85 °С |
| Humidity operating range: | 0 to 95% RH |
| Dimensions: | 68x47x26 mm |