Areas underneath the raised floors in data centers, IT rooms of other facilities are not visible and provide a hiding place for several threats to these critical spaces - conductive fluids, mold, rust, condensation, moisture, corrosion of equipment. Issues may not be identified until it becomes a much larger leak that wreaks havoc on the facility. The costs to repair them are then enormous. Having a water ingress detection system is therefore very important.
D

ripping coolant

from HVAC, CRAC, chillers
Seepage of the Water-Cooled Server Racks

A burst of a water pipe, drips, seeping clamp in your air conditioner system

Water from the soil or ground on the foundation of your site due to heavy rain or a thunderstorm.
Rare inspection of spaces and equipment due to short staff

Water pipe damaged by frost or a blocked sewage pipe,

plumbing installations, water pipes, or water tanks

An unwarranted surge of water from a sprinkler system

Water Damage Through Vandalism as a Result of Burglary

Trickles from adjoining walls.
Vutlan is a very powerful, and potentially money-saving liquid leak detection system which offers: leak detection cable sensors; water leak spot sensors; monitoring systems with built-in notifications (SNMP, E-mail, SMS, Syslog) for notifying the personnel; 12V control of alarm beacons and strobe lights; relay and dry contact outputs for control of devices
clean, polluted, and distilled water;
acids; alkalis; alcohols
other electrically conductive liquids
Damage to the sensor does not cripple the entire monitoring system.
A robust web interface that gives the ability to independently track many leaks at once, with local, networked or remote alarms and diagnostics.
Different lengths of leak detection cables are available and may be deployed on one floor or many levels of the building while being centrally monitored from the most effective locations.
Pinpoint the location of the leak by using multiple sensors for each area.
Possibility to extend the WLC leakage cables by connecting them to each other.
Support of SNMP for integration to building management systems, E-mails, SMS, SNMP, and Syslogs.
Configuration options that automatically shut off equipment or pumps/valves where appropriate (e.g. using dry contact outputs or relays).
Ability to monitor up to 208 leak sensors independently of each other.
Using VT591 & WLC cable sensor
The whole area can be effectively monitored by placing "WLC / Water leakage cable" near or along with possible flood sources. The sensor reacts to just a few drops of liquid on WDC rope or WLC cable. The cable is flexible and easy to install. "VT591 / Leak sensor" is an analog plug-and-play sensor, it is integration-friendly and quick to reset. After the flooding, the leak detection cable can be dried and reused. The sensor does not produce false alarm signals when bent or twisted. WLC can work in high humidity, pollution, and hazardous waste.
Scalability using VT408 & VT408DIN
Using CAN extensions it is possible to connect multiple sensors to the system using. VT960ii monitoring system can connect up to 208 leak sensors. VT335 monitoring system can connect up to 30 leak sensors.
Example: VT335 monitoring unit has x4 analog inputs for x4 leak sensors. But it is possible to connect x4 VT408 CAN extension units and provide a connection for additional x26 leak sensors.
| | | |
| --- | --- | --- |
| Size: | | 60×18×18 mm |
| Weight: |   | 60 g |
| Inputs: | | 2 wire (WDC cable) |
| Outputs: | | RJ11 / RJ12 (6p4c), analog signal with autodetect |
| Operating temperature: | | Min. -10° C - Max. + 80° C |
| Operating humidity: | | Min. 5% - Max. 95% (Non-Condensing) |
| Mounting: | | Wall mount, Rack mount |
| Max. distance from RMS:  | | 100 m |
| Power Consumption: | | 60 mW |
| Response time: | | 15 sec |
| Recovery time: | | Depends on how fast the sensor dries out |
WLC can work in high humidity, pollution, and hazardous waste.
| | | |
| --- | --- | --- |
| Detectable liquids: | | clean, polluted & distilled water; acids; alkalis; alcohols and other electrically conductive liquid |
| Inputs: |   | 2 wires |
| Diameter: | | 5.5 mm in diameter |
| Lengths: | | order options include 10m, 15m, 25m, 50m or custom length. |
| Weight: | | 26 g/m |
| Operating humidity: | | 0° - 100 % |
| Max. cable length: | | 225 m |
| Package includes: | | One self-adhesive holder for every 2 meters of cable. |
Any Vutlan monitoring unit can be used to monitor VT591 leakage sensors.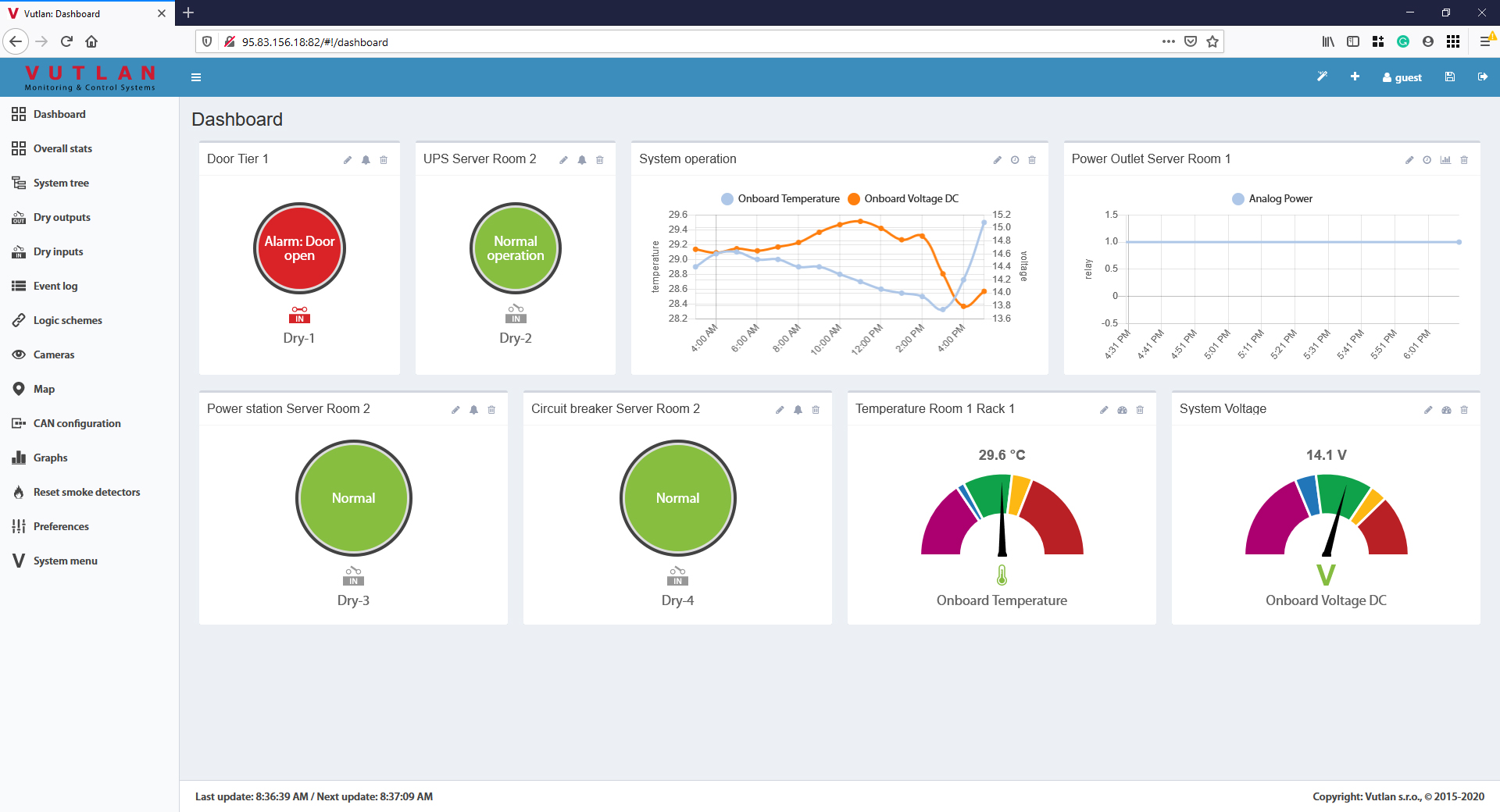 All Vutlan monitoring units come with a built-in multi-language Web Interface for monitoring and control of the device. Here you can configure notifications & alerts, logic schemes, user access permissions, sensors, and elements. You can also inspect sensor graphs, logs, or view cameras.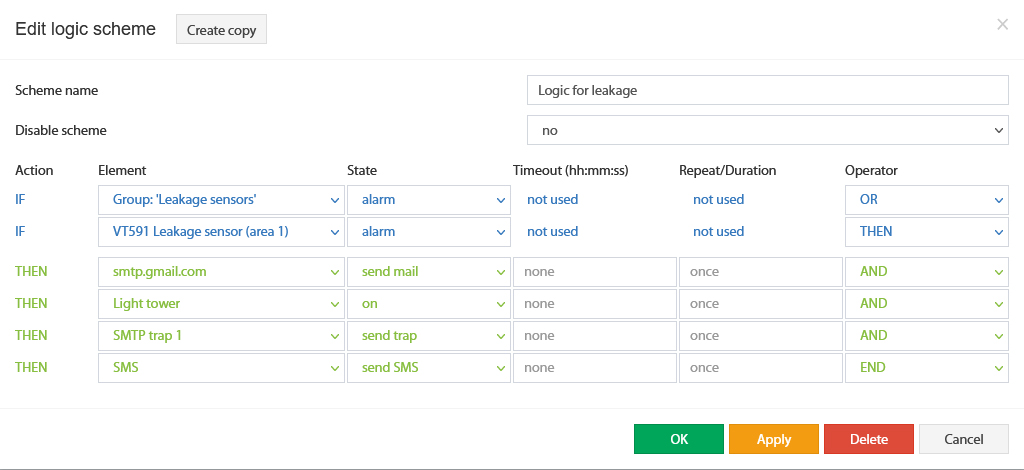 Configuring Leakage notifications
Logic schemes are used for notification and equipment control.

Multiple leak sensors can be grouped for notifications.

If there's a leakage we can activate equipment (e.g. a light tower) or shut down the equipment.

Send alerts such as E-mails, SMS, SNMP Trap, record video, Dial a phone, or HTTP request.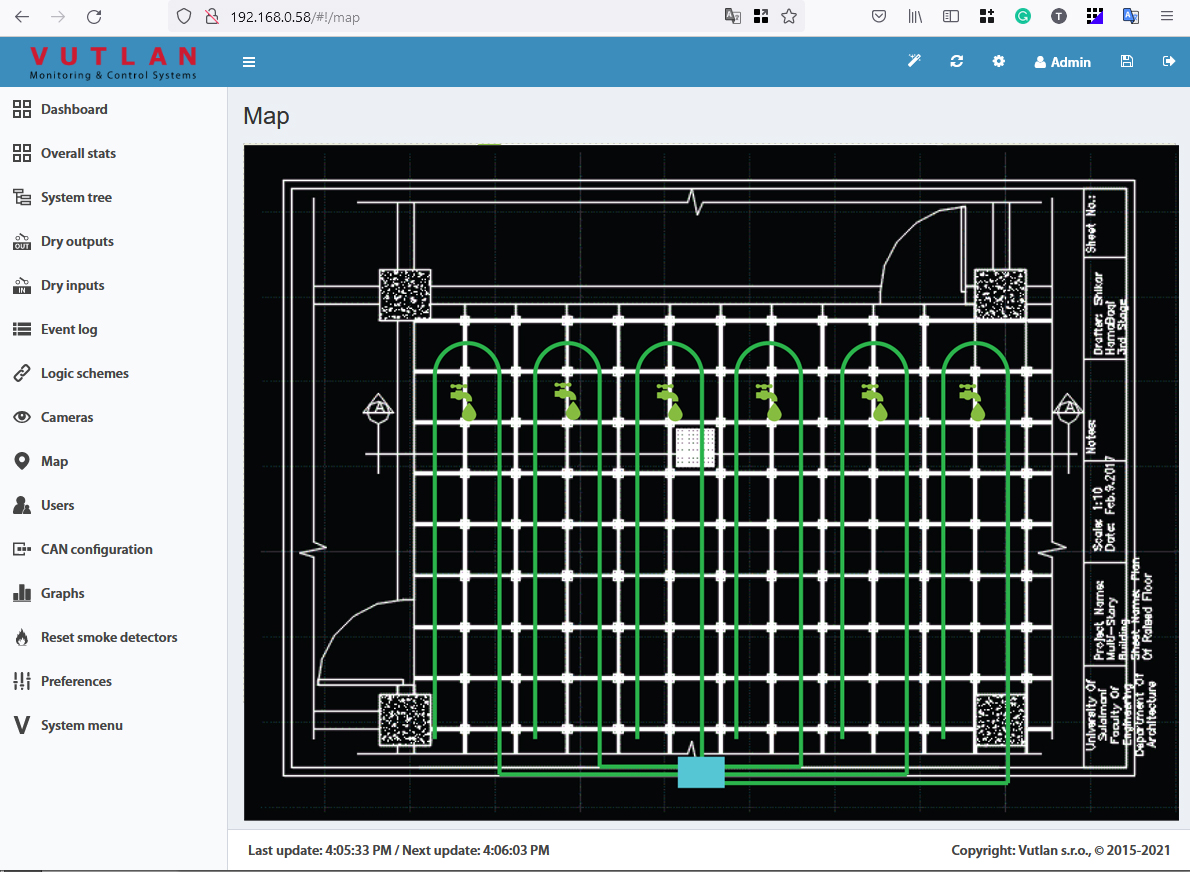 Leak sensors can be mapped onto a picture map depicting the floor map of the IT room.
Sensors highlighted in Green are in a Normal state
Sensors highlighted in Red are in an alarm state.