Scalability of Vutlan monitoring systems
Keeping track of hundreds of equipment may be thousands, or tens of thousands proves to be a difficult task. Keeping all these machines secure, compliant, and well-managed requires a centralized, easily expandable remote management system.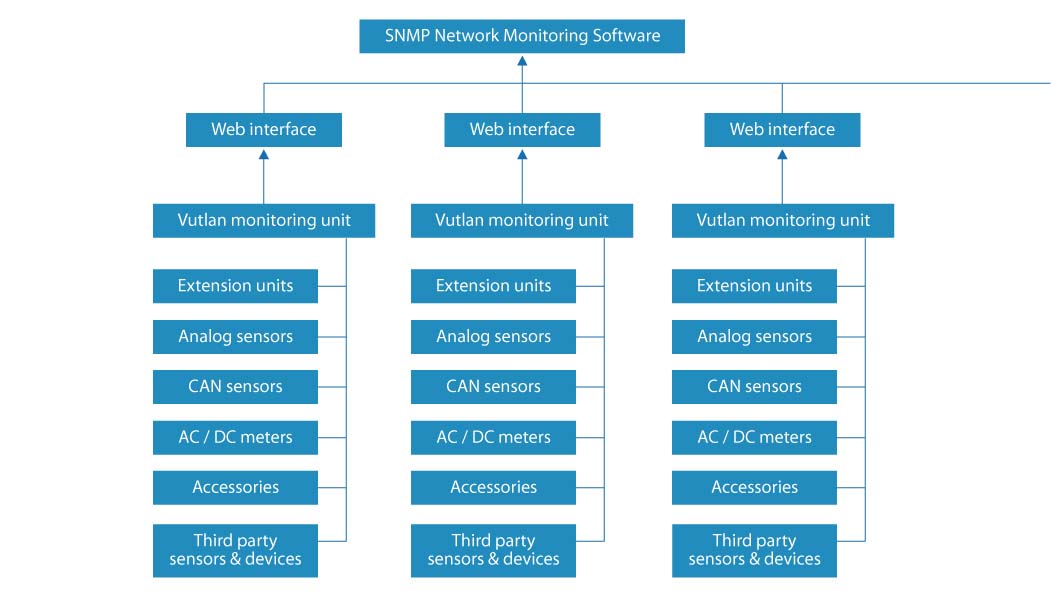 Centralized monitoring of all monitoring units
For many companies, the data center has quickly become their most critical asset. The always-on, always-ready IT business climate demands continuous, uninterrupted information access and can mean the difference between success and failure. System management is required to maintain the network and prevent, or at least minimize, the duration and frequency of outages. It is critical, therefore, for IT managers to have rapid and secure access to the infrastructure they are managing from wherever they are at any time. To accomplish this, IT managers require the ability to manage their equipment, no matter where it is located or how complex infrastructure is from one central management software.
An obvious solution is a Centralized Infrastructure Remote Management Software (NMS). All of Vutlan's systems fully support SNMP v1, v2c, v3. Required MIB files are included with all Vutlan units. This means that any SNMP NMS software already installed in any management center will be able to easily add all of Vutlan units and be able to monitor and manage them. Find out more at Integration of Vutlan monitoring system in NMS list.
We also offer "Centralized Infrastructure Management Software" already preconfigured for Vutlan units.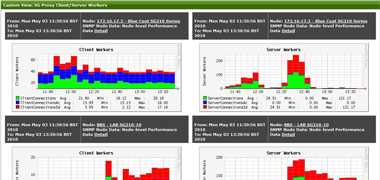 Centralized Infrastructure Management Software
Complete monitoring and alerting for servers, switches, applications, and services.
You can:
Monitor your entire IT infrastructure
Spot problems before they occur
Know immediately when problems arise
Share availability data with stakeholders
Detect security breaches
Plan and budget for IT upgrades
Reduce downtime and business losses
Visit our documentation page for more info: Management Software
Full SNMP v1, v2c, v3 Support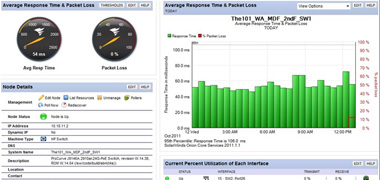 In-band and out-of-band management
Remote management can be conducted in-band or out-of-band. Most companies have in-band management software that relies on the data network for the transport of Simple Network Management Protocol (SNMP). Unlike in-band management, out-of-band management does not rely on the network or server availability to manage hardware equipment or the network infrastructure. For this reason, many infrastructure downtime situations can only be addressed by out-of-band remote management systems.
Vutlan remote monitoring systems allow to remotely monitor the equipment both in-band and out-of-band using: LAN, 3G / 4G USB modems, SMS notifications & management, SNMP trap, SNMP get e-mail notifications, sound and alarm notifications, USB camera and IP cameras, and etc.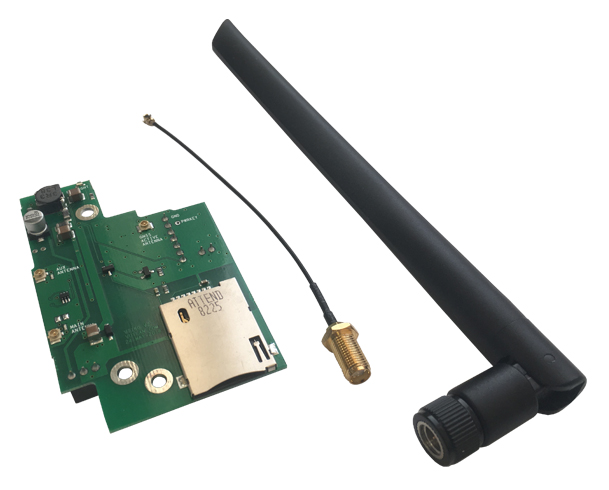 LTE Modem or LAN Connection
IT managers must have rapid and secure access to the infrastructure they are managing from wherever they are at any time. Our systems support access and routing with LTE modems. Needed when network is absent or for reservation of a connection channel of the master unit with the Internet.
Notifications are intended to inform the user about events occurring in the monitoring system. You can create such notifications as SNMP GET, SNMP TRAP, Timer, MAILER, SMS notifications, PING, and Trigger using the embedded Vutlan interface. E.g. SMS notifications or SMS control can be used when the network is absent.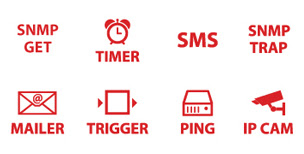 Software scalability options for Vutlan monitoring units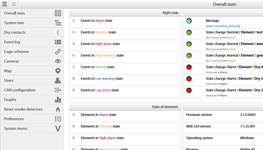 Every master unit has a built-in web interface for monitoring and control. Simply type in the IP address of the master unit inside a web browser to start working with it.
The demo version of the system is available at:
Software Scalability Options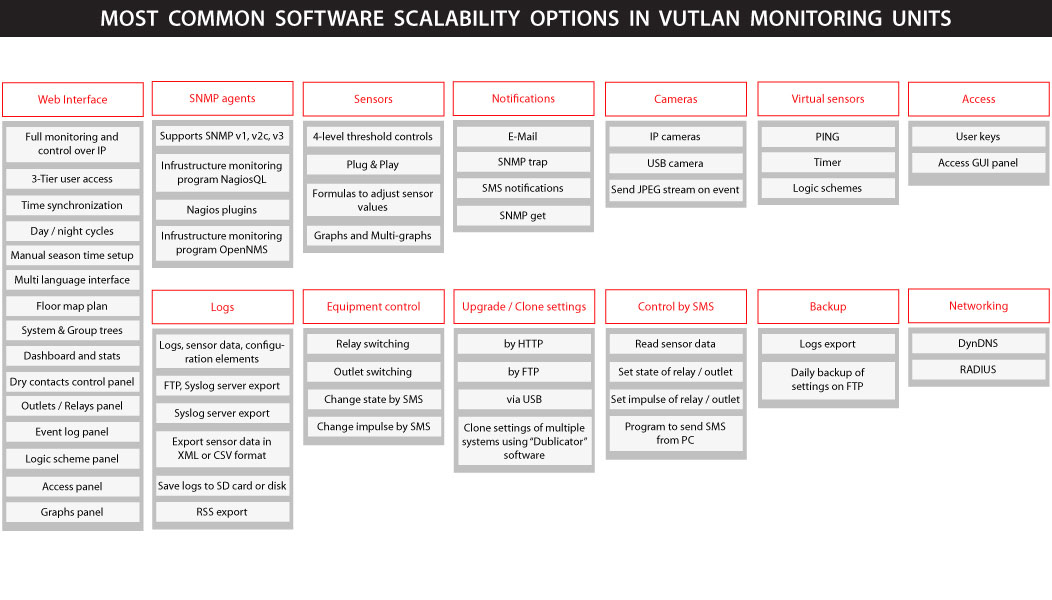 Connecting sensors and devices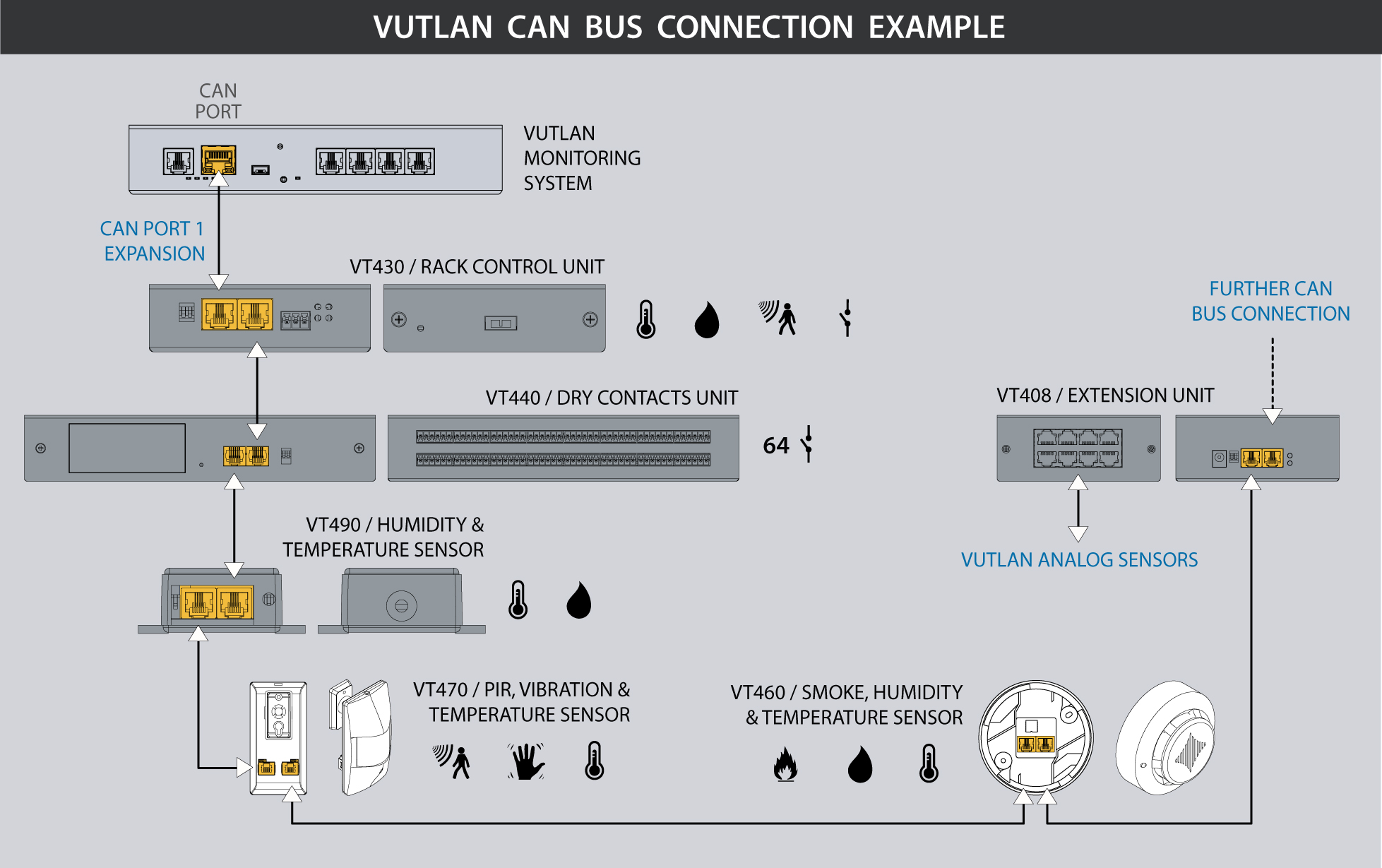 Connecting CAN Sensors & Devices
Connecting Analog Sensors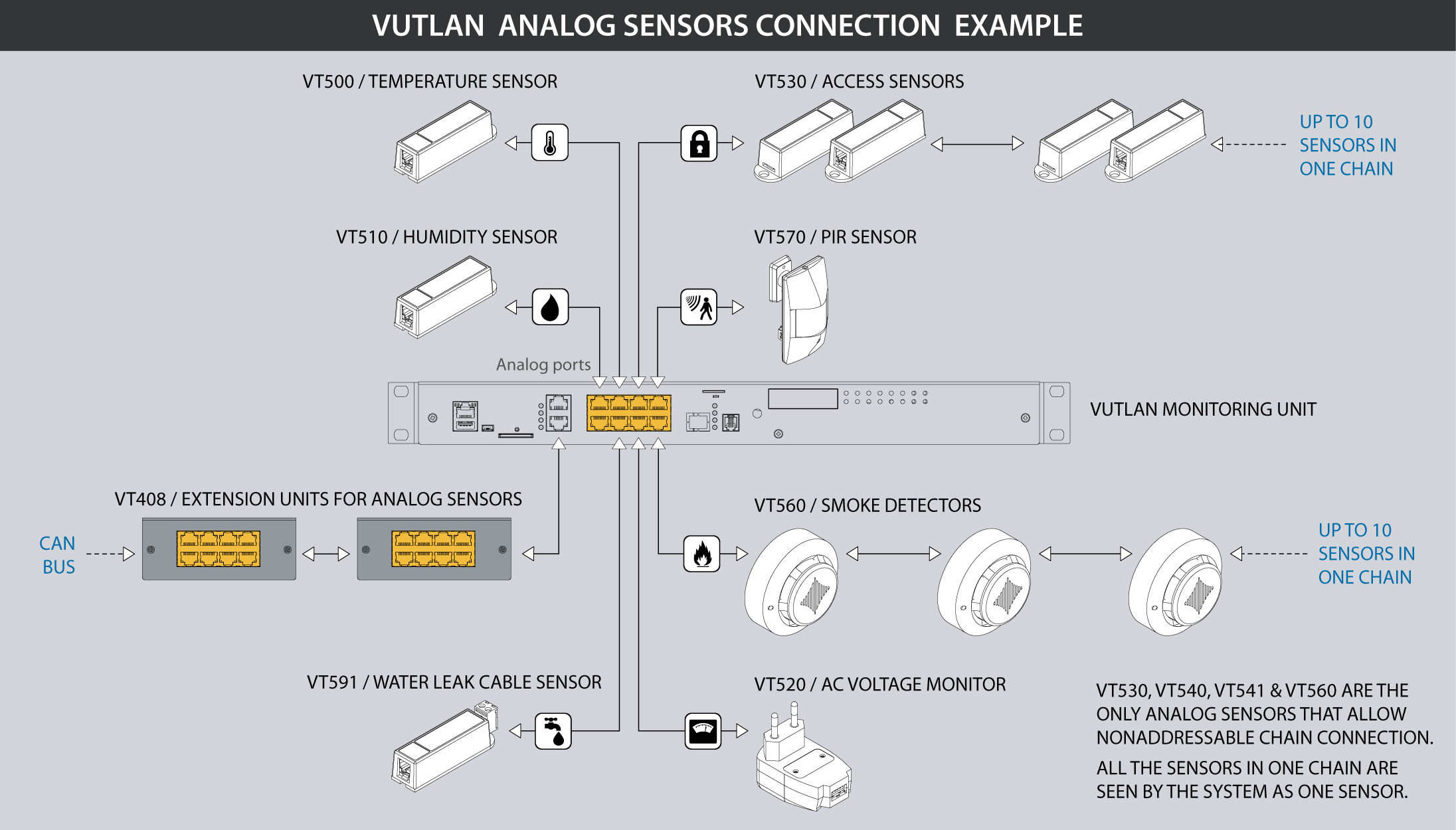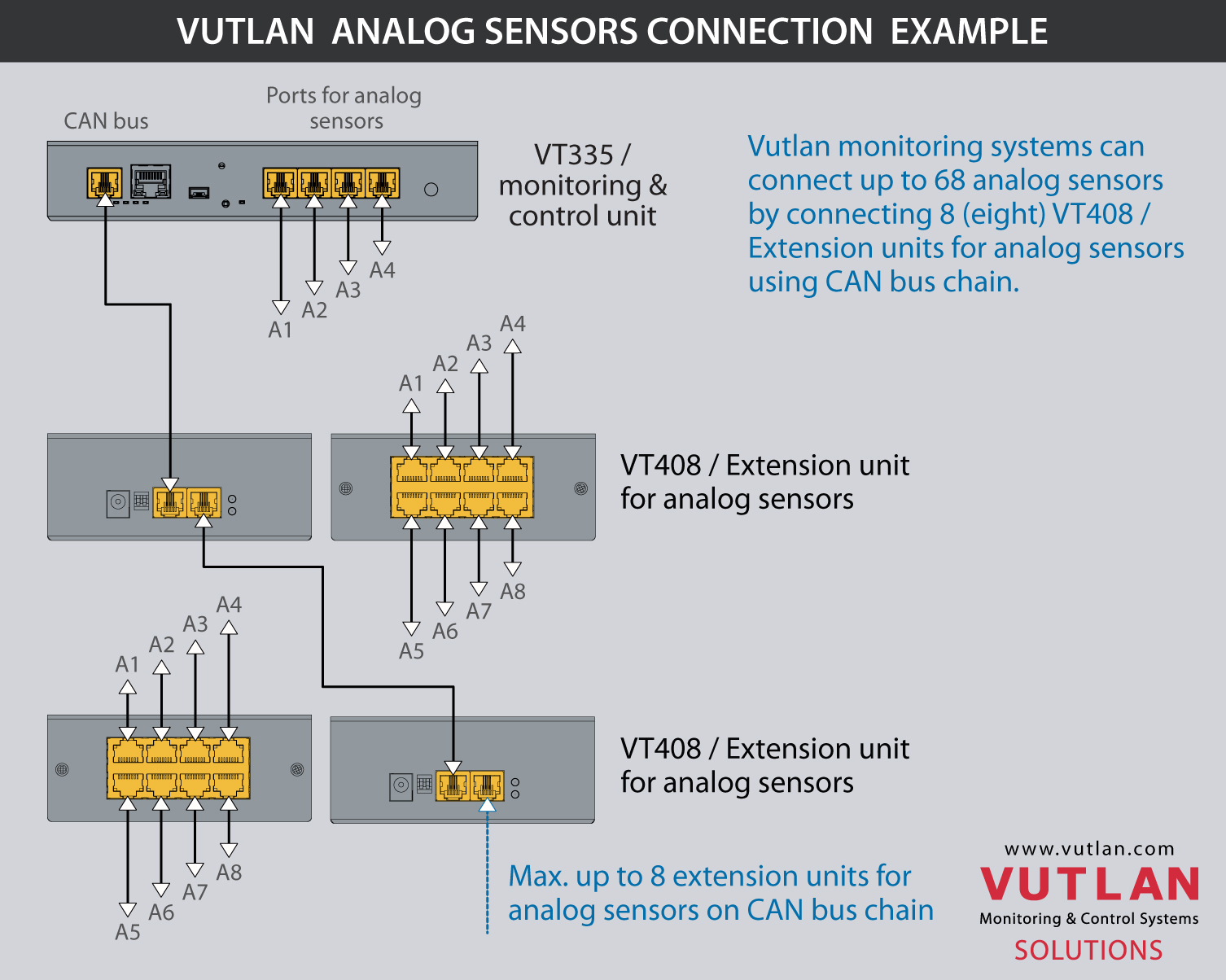 Using VT408 extension unit
VT408 / Sensor extension unit is a CAN sensor. Each such device adds up to x8 analog sensors to the system. It is possible to connect up to x8 VT408 units in a chain.